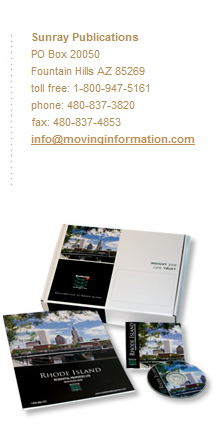 Sunray was created to allow a broad-based expansion of printed Area Guides and interactive guides that focus on meeting the needs of the real estate and relocation industry. Designed without the distraction of advertising, these exceptional guides combine detailed accuracy with distinctive style. Each Area Guide offers the latest information on Community Profiles, Tax and Transportation, Education, Healthcare, Attractions and Shopping. You'll find everything from parks and golf courses to colleges, hospitals, cultural venues, historic sites and children's activities.
Sunray Publications has already created more than 120 titles that cover specific geographic regions and major metropolitan areas from California to New York.
With our vast community database, research expertise and extensive resources, we can tailor an Area Guide around your unique needs. Sunray Publications efficiently manages each custom guide order as a turnkey project – delivered to your door or computer and ready for distribution. Whether you choose an existing title or a custom design product, Sunray Publications offers a total 'relocation package' that ensures your competitive edge. Best of all, your clients will have all the facts and figures they need for a successful relocation.
Our full-time researchers ensure accurate, timely data including verification of phone, fax, toll-free numbers, Internet and e-mail addresses.
Our editorial staff is responsible for the concise and friendly writing style that clearly describes each
profiled area.
Our production staff guarantees the unique, distinctive image of our publications. Laying out each guide for optimum readability, skilled designers create the specialized, custom look that so many of our customers demand from our titles.
Our management is dedicated to providing the highest quality publications while giving our clients a cost-effective solution to their relocation information needs. If you have any questions, or would like more information, please feel free to e-mail us at info@movinginformation.com.